Gratiane de Moustier is a French award winning documentary photographer currently based in Los Angeles, California. She worked in Finance in New York before graduating from the International Centre of Photography in NYC and the London College of Communication.
Her most recent work is focused on social issues around the world with a strong emphasis on women's rights. She feels pulled towards countries where women are especially vulnerable. Gratiane's aim is to shed light on situations that would otherwise remain untold.
She choses to immerse herself in long term projects, in order to have the opportunity to unearth the personal stories behind major issues and share them with the world.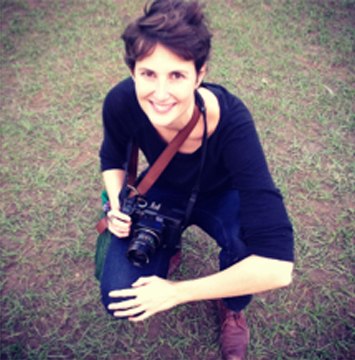 Gratiane's work has been published in major
publications such as Paris-Match, The New York Times, Le Monde
Magazine, Photo District News, Marie Claire, The British Journal of Photography and Days Japan among others. Her clients also include the International Committee of the Red Cross.
In 2008 , she was awarded the 1st prize in the Editorial
Photography Student Category at the New York Photo
Festival. The same year she was commended for the
Ian Parry Scholarship. http://gratianedemoustier.com/bio/ http://gratianedemoustier.com/bio/In 2010 she was nominated by
the American magazine Photo District News among the
PDN 30. In 2013, her project "Dreamseekers" was screened at the French photojournalism festival, Visa Pour l'Image.
EXHIBITIONS, WORKSHOPS & AWARDS
ANNENBERG SPACE FOR PHOTOGRAPHY, Los Angeles – June 2015
Part of the group show EMERGING with my series "Odile".
PALM SPRING PHOTO FESTIVAL – RON HAVIV WORKSHOP, 2015
4 days workshop with VII Photographer Ron Haviv.
VISA POUR L'IMAGE, 2013
Screening of "Dreamseekers", a story on Indonesian maids.
FESTIVAL DE BAYEUX CALVADOS DES CORRESPONDANTS DE GUERRE, 2013
Exhibition curated by The director of Photography Nicolas Jimenez from Le Monde.
ANGKOR PHOTO FESTIVAL, 2013.
Screening of "Dreamseekers".
FOTO 8 SUMMERSHOW 2012
Group Show, FOTO 8 Gallery, London, July 2012.
PDN EMERGING 30, March 2010
Photo District News' choice of new and emerging photographers to watch.
PDN EMERGING 30, 2010
Group Show, Shin Gallery, Los Angeles, March 2010.
PHOTOMONTH London
Group show, Christ Church, Spitafield, October 2009.
GETTY IMAGES GALLERY, London
Part of the Group show, The Ian Parry Scholarship 2009, August 2009.
MAGENTA FLASH FORWARD.
Emerging photographer 2009, Selected winner for the UK.
CHRISTIE'S, Paris
Arsep-Christi'es Silent Auction, June 2009.
NEW-YORK PHOTO FESTIVAL, New-York
"New Visionaires 2008, the Tobacco Warehouse, May 2009.
GETTY IMAGES GALLERY, LONDON
Exhibition of the Ian Parry Price. Commended for the Ian Parry Scholarship 2008, London.
SAINT PANCRAS TRAIN STATION, London
Maison de La France, France e-motion, Jeunes Talents.
NEW YORK PHOTO FESTIVAL, New York
New York Photo Awards 2008, Best Editorial Photographic image / Student Category.
FARMANI GALLERY, Los Angeles
Group show:  Best of Arles Fotofolio , December 2007-January 2008.
IRONBOUND WORKSHOP, Newark, NJ, USA
Five-day workshop with Donna Ferrato and Philip Jones Grifith, October 2007.
PEER GALLERY, New York
Part of the Group Show: Degree of Separation, July -September 2007.
FESTIVAL OF ARLES, FRANCE
 2007 laureate of the Photo Service price. July -September 2007.
INTERNATIONAL CENTER OF PHOTOGRAPHY (ICP), NYC
Full Time Student Exhibition, June -August 2007
JAMES NACHTWEY STUDIO, NYC, 2007
Student internship, Spring 2007.