Reportage story within « She Spies Private Eye », a private women investigator agency in Texas.
Anji Fussell, 47, founded her private investigator agency in 2003 in Austin, Texas. Her specificity: she almost exclusively hires women.
She Spies Private Eye takes action mostly in spouse cheating and child custody cases. Their clients prefer women investigators as they are seen to be more empathetic.
In the field, Anji and her team do static surveillances (in their car in front of the "subject's" house, or in a bar where the «subject" hangs out, etc.) and mobile ones (on foot, driving).
Bree, 22, was 9 when her mum founded her agency. Today, Anji trains her so she can take over. Bree is in charge of a part of the administration but works mainly in the field.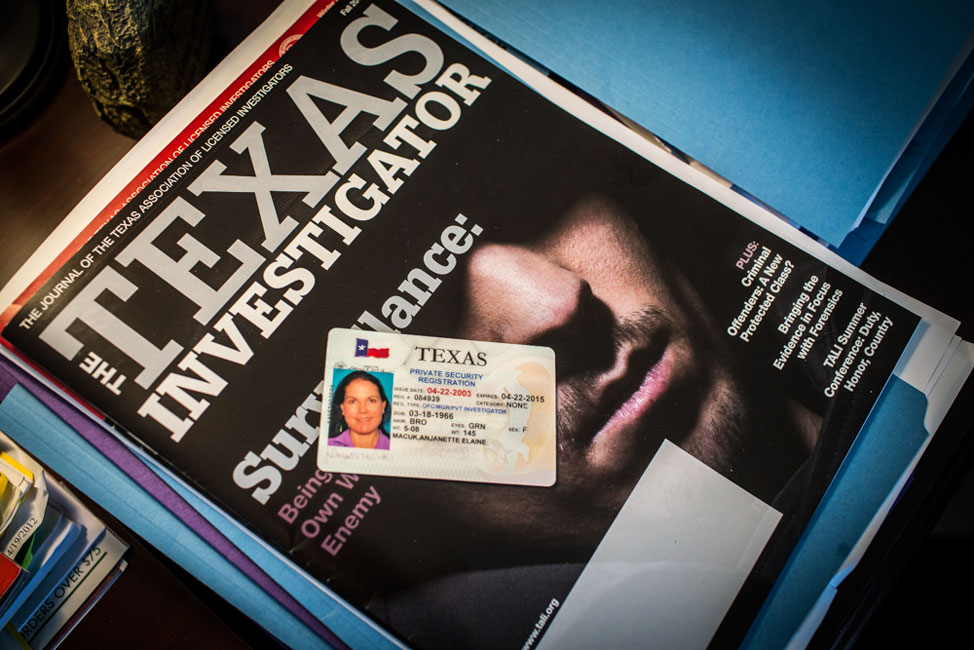 This profession is still very masculine. However, Anji feels "women go more easily unnoticed and are more creative than their fellow male detectives, who all go through the same training (they are usually former FBI, police or military)".
Anji and Brea opened a PO Box so their clients don't know their home address as most of the office work is done from Anji's office near Austin, Texas.
Clients love to know that she is both a mother and a grand-mother. They think she will be more committed than a male agent to their divorce /child custody case.
Last year, Anji got married for the 4th time. She works so much that John, her 33 year-old husband, has to take care of the household tasks, as well as the babysitting of her two grand children.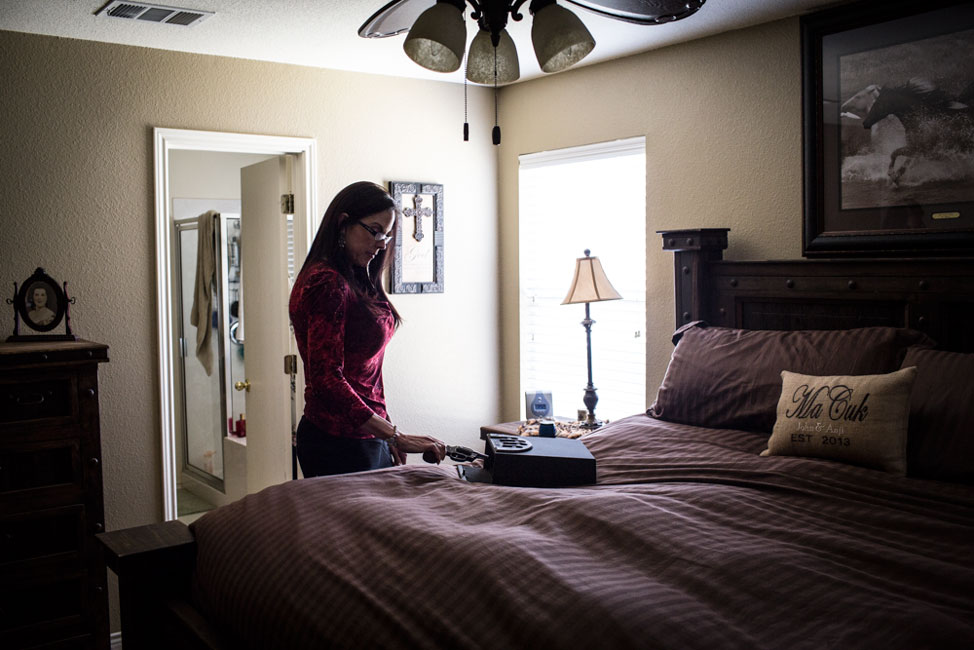 Anji hides her gun in a safe under her bed.
In Texas, firearm licences are so common that Anji chooses to be prepared to any eventuality. Recently, thinking that he was under surveillance, a man threatened one of Anji's agents with a gun.
Anji's dream was always to get a sports car. Even though it is not discrete, it fits with the glamour of her character.
Registered in a fitness competition, Anji trains every morning with a coach.
On occasions, women employees of "she Spies" team up to do surveillance on specific clients. Here, Jessica and Katie are working together in Katie's car.
Agents spend hours hiding in their cars that they re-organize accordingly. Katie puts some elastane on the windows to avoid being seen from outside.
She Spies undertakes lots of under cover operations. Anji once started a love relationship with a "subject", only to prove his infidelity. Jessica pretended to be a wealthy client in order to obtain information on a retirement home that extorted its residents.
Anji meets one of her former clients, Tracy, with whom she became friends. Tracy asked her to prove her husband's infidelity. She really appreciated the support Anji provided her to the hardship she went through.
Unlike men, women can easily change their appearance. Whenever they follow a target many hours in a row, Anji and her agents use different outfits, hairstyles and hats to avoid being detected.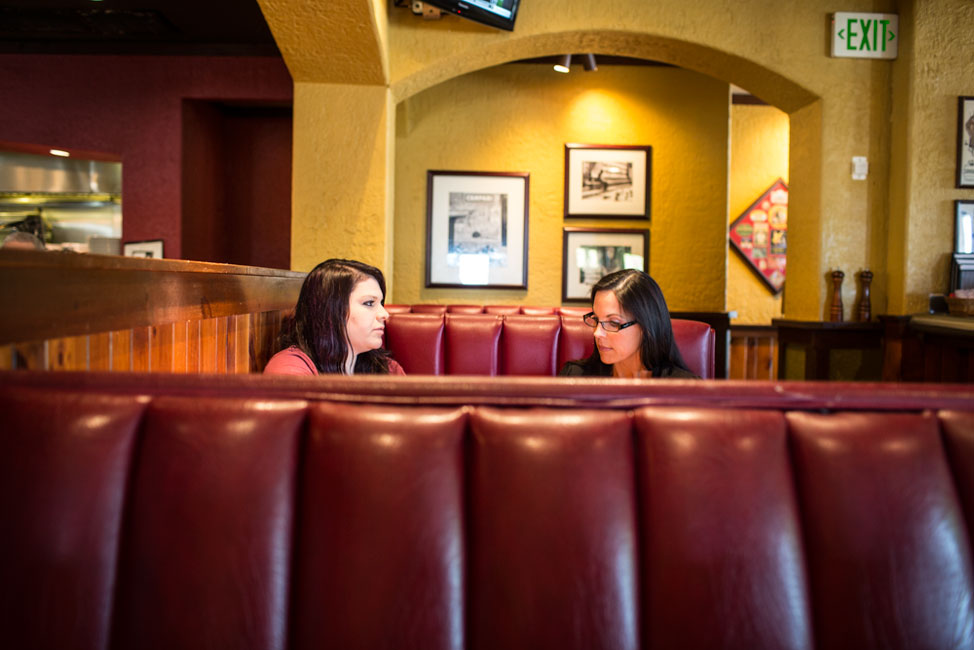 Anji and Bree often spend their Saturday nights observing their 'subjects" in some bars or night clubs. Weeks ago, Bree went to have drinks with a young father suspected by his ex-wife of being an alcoholic.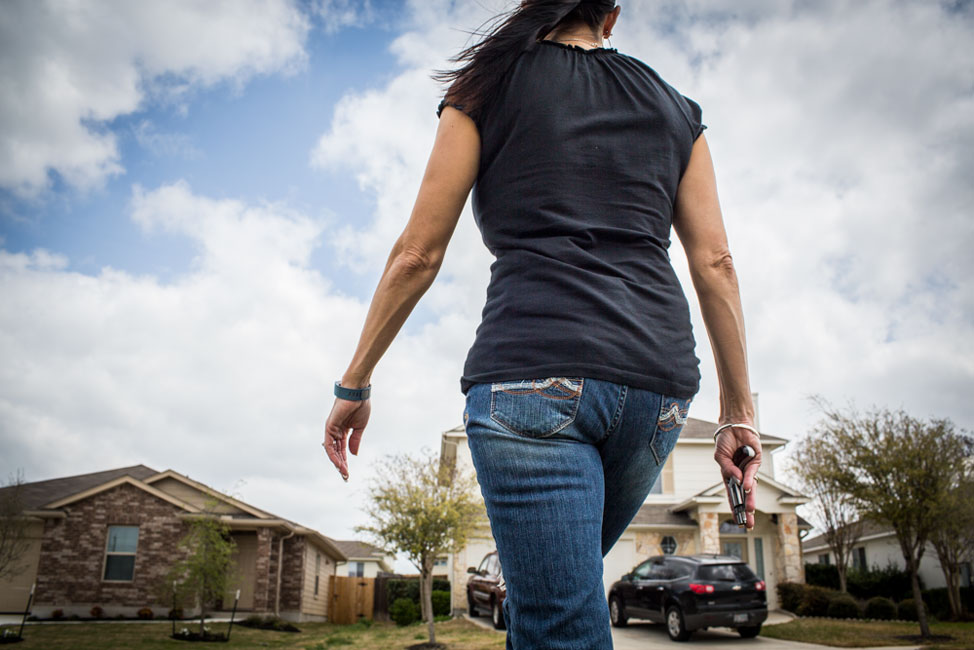 During one of her under-cover operations, Anji had to go to a swingers club in order to prove the infidelity, and the "unusual" sexual practices, of an adultery woman.
Bree, alone in her car is assessing the situation.  Katie is parked in front of the "subject" house. The subject is a man in his twenties accused by his wife to be unfaithful and an alcoholic. Bree and Katie will try to bring some proofs.
Bree smoking an electronic cigaret. It's been hours now that she is waiting for her subject to get out of his home so she can fallow him.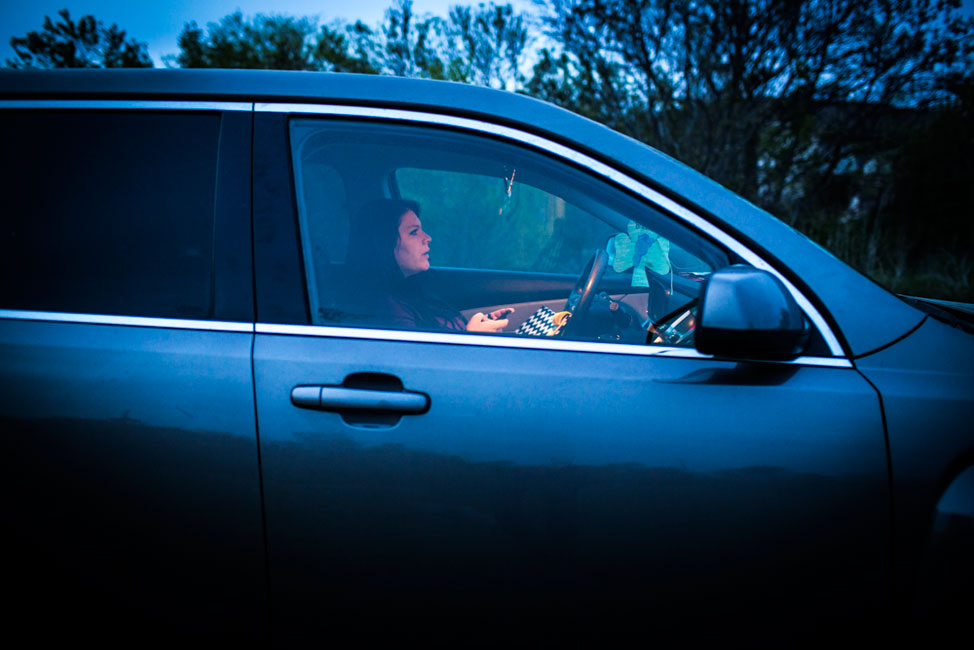 Agents spend hours hiding in their car.  When she was working on her own, Anji used to always carry a small container to relieve herself.
Anji added two men to her team. Whenever the situation becomes dangerous for her under-cover employers, she sends those two bodyguards on location.
PRESS